Companies of the Year - 2014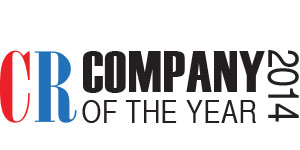 Today, the technology vendors are adapting to the SMAC era by becoming more innovative, agile and entrepreneurial with next generation technology solutions. The confluence of Social, Mobile, Analytics and Cloud is allowing businesses to tap into their customers' needs and win over them. This sharp advancement, along with the economic ebb has laid an opportunity for midsized companies in India allowing them to prove their mettle in the competitive market landscape. The towering growths in the mid-sized companies be it in BI, ERP, CRM, SAP and telecom sector will bring in more jobs than their larger counterparts in the near future. These companies are coming together to unleash the unlimited opportunities of disruptive technologies and become more and more agile. In this issue, we have brought to the fore a few of similar companies who have proved their mettle in providing state of the art solutions incorporating significant innovations.

CIOReview India presents to you the Companies of the Year for 2014. We present you in depth information about the functioning and specialties of these high value organizations as they transform the business landscape through their specialties. We have identified companies along with their significant contribution from the various technology verticals like ecommerce, Retail, CRM, Disaster Recovery Management, BI, and ERP. These companies have taken giant steps ahead of traditional approaches and are acting as business enablers to the next generation of technological trends. Focused on deriving sustainable competitive advantage, these companies want to transform themselves to become agile, insight enabled and ever connected with the customers and partners. While some organizations carve new avenues by overcoming the technical and business challenges, the other companies have redefined traditional areas through their innovative solutions and services. We value their commendable contribution in making a name for themselves through their solutions, products and services. Going forward, these few unique companies continue to sow the seeds of trust and faith with respect to their services among their customers and partners, thus empowering themselves with independence needed to truly innovate.

A distinguished panel of the industry's topmost CEOs, CIOs, VCs, IT innovators and analysts, spanning across a host of verticals, including CIOReview's editorial board scrutinized the list of companies throughout the entire year and finalized these companies. We pass on our good wishes to the companies who have featured in the exclusive list as we recognize their dedication and contribution to the lesser known fields and innovation in the well-known ones.
We present to you CIOTechOutlook Companies of the Year - 2014.
| | |
| --- | --- |
| Acess Meditech | TOSHFA comes circumscribed with various scalable features that can be used by Insurance Companies, Third Party Administrators (TPAs), Health Maintenance Organization (HMO) and Managed Care... |
| Ash Ashutosh | Ashutosh's entrepreneurial journey has been marked by several notable events starting from the founding of Serano Systems to the inception of Actifio. |
| Akhil Systems | Akhil Systems has developed various web based solutions pertaining to Hospital Information Systems (HIS), Electronic Medical Records (EMR), Pharmacy Information Systems (PIS), Laboratory... |
| American Megatrends India | American Megatrends provides this solution to a wide market, ranging from entry-level firms to SMBs and large enterprises |
| ANSYS Inc | Having an extensive experience of 25 years in Indian manufacturing industry, Rafiq Somani, Country Sales Manager for ANSYS INDIA, ASEAN & ANZ has a good handle on the common challenges faced by the... |
| Atos | To streamline insurance operations and reduce process complexity including cost, Acess Meditech provides an advanced e-portal allowing its users to handle and carry their insurance business more... |
| CEIPAL (Avani Technology Solutions) | CEIPAL, an end-to-end workforce management platform, provided by New York based Avani Technology Solutions, comes to the rescue of enterprises by equipping them with the capability to take care of... |
| B4B Solutions | B4B Solutions deliver resilient, modular, scalable hardware and software storage solutions which are abreast with the latest technology in the industry |
| Boredbees Tech Solutions | Boredbees enables systematic communication between doctors, patients and their families by implementing a web portal that bridges the communication gap between the doctors and patients |
| C-Edge Technologies | While the C-Edge ASP model did prove its capability to change the manner in which IT services were provided, it has taken Banks time to embrace it's potential and go for it in a big way |
| Ceeco Technologies | Ceeco introduced ClickShare in the Indian market to raise the productivity levels of meetings while annihilating wastage of time on technical hiccups |
| Celoxis | Celoxis has been a forerunner by introducing features like custom apps that manage organizational processes within the comfort of a single project management system |
| CMS IT Services | One of the niche players in the IT infrastructure space, CMS IT Services, headquartered in Bangalore, brings to table 35 years of deep experience in ensuring business agility and information... |
| Cnetric | CMS IT Services brings to table 35 years of deep experience in ensuring business agility and information availability through its Infrastructure management services |
| CtrlS | CtrlS is currently addressing the mid-market segment and is positioned to address the unmet needs of end customers through focused engagement, discussions and Ctrl 4C |
| D2K Technologies | D2K Technologies has been developing Risk mitigating banking solutions on contemporary technology platforms |
| DataMetica | DataMetica is an experienced and award-winning provider of BI, Big Data and Analytics solutions |
| Dexler | Dexler's Content Creation Services are based on sound instructional design, visual communication, and digital interaction |
| EduRiser | EduRiser focuses on the organizations' competency framework and the expected behaviors to be demonstrated by individuals at the junior, middle and senior level |
| Eastern Software Systems | To help ensure ERP implementation is a success, ESS has designed ebizframe in such a way that it can easily be configured to meet the diverse tailoring needs of Businesses and withstand significant... |
| Forbes Technosys | Forbes developed an end-to-end web Cheque Truncation Solution through its in-house team of developers and technical architects |
| FORMCEPT | FORMCEPT brings a solution to this problem in the form of a state-of-the-art "Unified Data Analysis platform" called MECBOT |
| HCM Info Systems | The firm offers expert advisory and professional services on Package Implementation, Annual Maintenance Support, HCM Transformation, Offshore Delivery and other objectives |
| IceWarp | IceWarp leverages a mail server with extensive groupware functions. IceWarp Mail Server allows users to collaborate and communicate by instant messaging and video calling and effectively aids in... |
| In4Velocity | In4Suite provides end-to-end solutions for real estate developers and infrastructure players. It provides a real time view to the users of all their business processes |
| Inflow Technologies | Inflow's consistent approach, deep understanding of manufacturer's products and reseller channel provide resellers the adequate knowledge and tools to successfully market and sell products to... |
| InterGlobe Technologies | InterGlobe Technologies has based its m-commerce offering on the premise that both the stakeholders would incur minimum costs and at the same time receive high return on investments |
| Jabra | Jabra, a global headset manufacturer provides business grade headsets to complete a UC solution, letting the users experience the full functionality of the UC solution |
| Lekhisoft | Lekhisoft's hospital management system addresses the qualms of appointments and registration by generating Permanent Patient Registration Number and Medical Record number |
| Mahindra Holidays | Mahindra Holidays, as India's largest and most trusted vacation ownership brand, is well poised to take advantage of this expected growth |
| Myeasydocs | Myeasydocs provides a cloud based storage and retrieval solution of verified documents to help numerous applicants applying for various verticals and institutes across the globe with guaranteed... |
| MachinePulse | MachinePulse conjoins machine learning and artificial intelligence to work in tandem with its analytics to provide solutions that greatly improve the industrial and project efficiency |
| Niqotin | Niqotin innovates on indiERP, a Social Cloud ERP for Micro and Small Enterprises with Content, Community and Commerce apps to improve the Process, Productivity and Profit. |
| Payoda Technologies | Payoda continuously strive for big or small efficiencies so that projects achieve a positive return on investment by solving Big Data analytics problems |
| Perpetuuiti | Perpetuuiti Technosoft Services, headquartered in Mumbai, addresses these challenges by automatically discovering what an organization has in its IT environment and mapping it in terms of the... |
| Pragmatic Techsoft | Pragmatic Techsoft adopts agile methodologies when it comes to responding to varying needs of the customers. |
| PREMIER Biosoft | To accelerate research in its most simplified automated form PREMIER Biosoft offers robust, high throughput and custom informatics software solutions |
| ProMinds Global | ProMinds Global offers a wide range of IT services to hundreds of clients in Governments, Defense, Private and Public Sector organizations |
| Q3 technologies | Q3 technologies also address technical complications associated with Supply Chain Management (SCM) |
| Quintiles | enables seamless integration of data, therapeutic expertise and clinical trial processes that provides data transparency, optimized workflows, and real time insights into the patient, study/site... |
| Sage Software | offers a wide range of cloud and on- premise Business Application Software with Sage 300 ERP, Sage ERP X3, Sage CRM and Sage Pocket Payroll and HRMS |
| SatNav Technologies | SatNav Technologies, headquartered in Hyderabad, has established a foothold in the area of FMS by transforming business processes and maximizing assets and savings |
| Scientel Information Technology | Provider of advanced DBMS design, applications, and systems integration for Big Data |
| SecPod Technologies | Caters to enterprises' Vulnerability and Compliance Management need through its suite of product named Saner built on ANCOR, a highly scalable analytics and correlation engine |
| Spectra Technologies | Spectra Technologies formulates applications of thin clients which are compatible in different environments through desktop virtualization, terminal service and application virtualization at... |
| Spine Technologies | Provides better options to make MIS reporting easy with reporting utility tools embedded within its HR and Payroll Software |
| Sukraa Software Solution | Providing the hospital administrators with insights of their business and helping in assessing the functioning of various departments |
| SysTools Software | Providing products and solutions which are being directly and indirectly leveraged by the Digital Forensics community for the past seven years |
| TalentSprint | Offers training on industry based curriculum with special focus on experiential learning to ensure candidates are fully certified in their area of expertise before the companies hire them |
| Tangoe | Provides expense management technologies and services to automate, control, optimize, and manage an organisation's fixed assets, expenses, and usage |
| Techmagnate | Techmagnate offers, enterprises and start-ups alike, a 360-degree customized approach with Digital Marketing to establish and sustain their presence online |
| TransOrg Analytics | TransOrg provides analytics across the customer lifecycle from customer acquisition to engagement and retention |
| Triangle Global | Triangle global ensures to pick up best quality candidates by verifying background and education details |
| Vicisoft | Offer Enterprise various Content Management (ECM) solutions through its products ViciCloud, ViciDocs, ViciFlow and Viciform |
| Vigyanlabs | Vigyanlabs has rapidly grown to become a service and technology consultant in digital power management, enterprise Architecture, peak load management, Android Power Optimization, Desktop Energy... |
| Vinculum | a provider of a range of solutions including eCommerce fulfillment, Supplier Collaboration, Real Time store inventory management and Master Data Management ensuring enterprise wide data... |
| Virmati Software | Offers robust, highly customizable/configurable and smoothly adoptable Banking Solutions to annihilate the pain involved with project implementation, support and regulatory changes |
| VSoft Technologies | provides a comprehensive core banking solution (CBS) for co-operative banks built on advanced web technologies |
| ZeOmega | ZeOmega provides a deployment-ready population health management platform to enable payers and care-delivery organizations to improve individual health as well as provider performance |
| Dimakh Consultants | Dimakh has helped India's first online sweet shop portal-Mithai4all to become accessible for its customers by connecting leading sweet vendors across major cities from India |