Consultant of the Year - 2014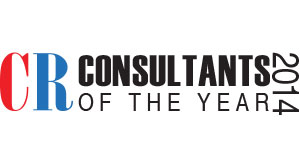 India's Outsourcing & Consulting Industry is being forecasted to be worth $99 billion in 2015. The industry has been growing at a rapid pace in the recent past and it has witnessed a considerable augmentation in the number of new comers in this field exploring all the industries. The main aim has always been to gain market share in this highly consolidated and competitive environment, primarily by capitalizing on the pertinent factors driving it. With enterprises looking to increase revenue and improve efficiency, the demand for consulting services in India is becoming more and more evident.
Information Technology (IT) including e-commerce, telecommunications and so on followed by Corporate Strategy, Outsourcing Services, Human Resource Management, and Operations Management have been some of the prominent business divisions in the consulting market. In addition, there are opportunities around helping businesses make the most of mobile platforms as more Indians access the Internet on their mobiles than on computers. Cloud computing and infrastructure services also present a big opportunity in the Indian market. From a sector perspective, financial services continue to be big business in India's consulting world.
Enterprises today are in pursuit of consultants who are able to quickly assess the situation and identify several possible solutions to meet the specific goals, requirements, and limitations for the project. They are looking to benefit from the consulting firms' experience, exposure to various environments and technologies, and ability to collaborate to identify creative yet viable options. The continuous market tracking service coupled with technical industry know-how facilitates consulting firms to help clients take the right decision at the right time as well as relieve them from the pressures like 'time-to-market' a new product or production planning or in fact any challenge in any business division.
However, with the increasing number of consultants in the Indian industry, it is important to identify the suitable consultant or consulting firm that can comprehend your requirements and help you visualize and reach the goal. A good consulting service can add a significant amount of value to a project and is well worth the investment. At the same time, enrolling with a wrong consultancy firm or consultant can cost a lot of money, may lead you in the wrong direction and may not help you achieve your overall goals.
To help you zero in on the efficient consultancy firm or consultant, CIOReview brings to you a list of consultants who have proved their mettle in 2014 with commendable services. A distinguished panel of the industry's topmost CEOs, CIOs and analysts, spanning across a host of verticals, including CIOReview's editorial board scrutinized the list throughout the entire year and came up with the names of those who have really made their mark with their consulting services.
We present to you CIOTechOutlook Consultant of the Year - 2014.
| | |
| --- | --- |
| Axisvation Technologies | a cloud-computing platform that enables organizations to achieve growth while overcoming challenges of scalability and elasticity. |
| Bizworth | They grapple to provide company wide view of both intangible and physical assets as they neither can translate the value of the assets nor can provide a platform for the enterprise to improve the... |
| BMGI | BMGI is a consulting partner that collaborates with every level of your business to create and execute strategy that delivers innovation, growth and outstanding operations. Through our portfolio of... |
| Career Marshal | Career Marshal focuses on adding value to HR policies of its clients |
| Eixil Group (Ashu Gaur Venture) | Eixil Group addresses the qualms of the startups by helping them allocate the right and adequate budget for marketing and branding via Print, Electronic, Digital, Internet, Social Media, Outdoor... |
| GCSRT | CSRT team advocates that every firm has to be dealt in a unique fashion with an aim to mitigate online threats |
| Intellibuzz | Intellibuzz's strategic approach is designed to help these large TEM providers to focus on their customers and core business |
| Interactive Bees | Interactive Bees provides a complete 360 degree enterprise solution through offline and online marketing for brand building, web development & applications, promotions and Print designs in addition... |
| KBG Services | KBG team has developed a totally automated and web based CRM, which is a multi location payroll solution tool |
| Maraekat Infotech | Providing innovative online travel portals for agents, customers and corporates |