Company Of The Year 2016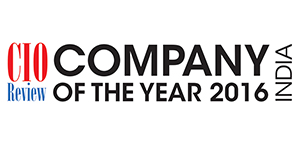 With the emergence of rapidly evolving technological solutions, it has sparked a new relationship between man and machine. Man has always been hesitant to venture into the domain of adopting robust disruptive technologies to improve the efficiency of products and services alike. This has been gradually changing over the past years and anticipated to move at an incredible pace in the next few years. In order to reduce the escalating costs of maintenance, IT manpower costs, operational costs, enterprises are adopting various technologies pertinent to their company products and services. Every organization is gearing up and readying themselves to harness the powerful advantages of the new technology revolution that is underway. Big data analytics, IoT, BI, cloud computing, ERP, and various other emerging technological trends, all have had a positive impact on SME and large enterprises alike with its cost effective solutions making it a step easier to enter into the competitive market and be a worthy contender. Additionally, the 'Digital India' and 'Make in India' initiative has given companies the much needed boost by the government to exploit the resources and talent pool in our surroundings itself; a definite game changer.
Summing up the year 2016 on an exceptional note, CIOReview brings forth a whole diverse inventory of companies, with its vast experience and expertise in their respective fields, assist business transform their landscape and become more agile. These companies have been actively involved in providing competitive and state of the art solutions to address challenges faced by businesses on an everyday basis and have even braced themselves to ride the growth wave and tackle any hurdle that presents itself in the future. Furthermore, these companies have been identified for their eminent and outstanding contributions across a broad range of technology verticals like Big Data, ERP, Cloud, Storage, Enterprise Mobility, Enterprise Security, Software Testing and the likes. Leaving no stone unturned, we have revealed some of the lesser known or approached verticals such as Fintech, Hospital Management Softwares, UX/UI Services, which are slowly catching up with the big players. We appreciate their valuable contributions to the ever expanding and competitive market and their ability to sustain themselves and emerge as the top contestants through their reliable products and services. Having gained adequate technical prowess through combined years of experience, these innovative companies continue to utilize their expertise to bring their products and services to serve the unique requirements of every customer and partner.

A distinguished panel of the industry's topmost CEO's, CIOs, VCs, IT innovators and analysts, spanning across a host of verticals, including CIOReview's editorial board have probed and scanned the list of companies throughout the entire year and finalized on these companies. We pass on our compliments and best wishes to the companies who have featured in this exclusive list as we observe their tremendous dedication and contribution to the lesser known fields and innovative solutions in the respective leading fields.
We present to you CIOTechOutlook Company Of The Year 2016.
| | |
| --- | --- |
| 99Tests | Provides a crowd-sourced software testing platform that enables Crowd Testing, Functionality Testing, Security Testing and Test Automation. |
| Achieve India LLP | A Financial Management and Corporate Service Provider for account outsourcing, investment consulting, tax consulting and other corporate services. |
| Addteq | Specializes in Software DevOps, build & release Automation, Software Configuration Management, Atlassian tools, plugin development and Android & IOS Development. |
| Adrosonic IT | Extends services towards Test Consultancy, Mobile Application Development, Amazon WebServices, CRM, Cloud Consultancy and Project Delivery |
| Ansys | Develops solutions Engineering Simulation, Design Optimization, Finite Element Analysis (FEA, FEM), Computational Fluid Dynamics (CFD) and Virtual Prototyping. |
| Chitcare(Kireeti Soft) | A chit fund management software package that offers a comprehensive list of functionalities including Defaulters list, Guarantors information, Subscriber- wise ledger, Agent- wise Business and... |
| Cnetric Enterprise Solutions | Offers services for Omni-channel Commerce, Marketing Automation, API Development, Order Fulfilment, and Engineering Services. |
| Crestron Asia | Implements novel technologies in design & manufacturing of advanced control and automation systems. |
| CSS Corp | Proffers an ecosystem of solutions for Tech Support, Carrier Network Support and to manage stand-alone, cloud or mobile enabled IT infrastructure. |
| Dwise Healthcare IT Solutions | Leverages expertise in Cloud Engineering & Big Data Analytics to proffer solutions for Hospital Management, EHR and ERP for hospitals, LIS, Patient Portal and Pharmacy. |
| Eben Telecom | Avails Call Center Services, Mobile VAS Solutions & Services, BPO & Staffing Solutions, Bulk & Enterprise Messaging, IVR & Automated Dialing Solutions and CRM Application Development. |
| eClinicalWorks | Caters ambulatory healthcare IT solutions including electronic health records (EHR), practice management software, patient engagement, ACOs & PCMH tools, care coordination and population health... |
| Eigen Technologies | Develops products and services in Embedded Electronics, Firmware and Software domain, with specialization in Wireless Sensor Networks, VLSI, Photonics, M2M, and Embedded Wireless. |
| Embee Software | Avails consultation and integration services to large and small enterprises in verticals including Enterprise Business Solutions, Technology Infrastructure Solutions and Audio Visual & Building... |
| EVOLVE Technologies & Services | Prime skills on Consulting, Solution engineering, Project Management IT Operations for Telecom Service Providers. Professional Services Suite covers BTS installation & configuration, Radiation... |
| Finsoft | A web-based ERP Application which offers a portal for direct interaction with customers, Online Collections, SMS integration, and Mobile connectivity. |
| Gemalto | Avails secure digital services for Digital Security, SIM cards, EMV payment, smart cards, ePassports & eGovernment, Data encryption and Mobile Financial Services. |
| GigaSoft Systems | Business technology solution provider with products and services involving – web applications, software development, software as a service, email campaign management and online marketing. |
| Helix Tech | Provides end-to-end solutions in a suite of mobile services including App strategy, design & development, QA & Testing , App marketing , analytics and app lifecycle & management. |
| Infinite Computer Solutions | Builds messaging products and services including an Enterprise Messaging Services suite (EMS), secure messaging through NetSfere, SMS Gateway, Rich Communication Suite (RCS) and Personal Messaging... |
| ITC Infotech India | Tenders Application Management Services, Digital Services for ERP, Erp Implementation, Upgrade & Migration, SAP HANA & SAP S/4HANA, Erp Consulting, Integration and Testing Services. |
| Kryptos Technologies | Specializes in providing Datacenter Management Services, consulting practices, deployment of multi-tenant enterprise solutions as well as assistance for Migration to cloud & Integration with Public... |
| Magna Infotech | Offers a spectrum of services like Product Development & Engineering, Automotive IT & Electronics and Industrial design, across the industry segments. |
| Mindworx Software Services | Offers Outsourced Delivery Centre, Product Engineering and Modernisation, QA and Testing, Open Source Applications and eCommerce. |
| Mithi Software Technologies | Builds solutions for Cloud Email, Enterprise Email, Email Archiving, Secure Email, Video Calling & Chat and Collaboration. |
| Nexus Group | Avails PKI, Authentication, eID, Secure Remote Access, two-factor authentication, cloud security, digital signatures, piam, ciam, Identity and access Management solutions. |
| Noah Data | Offers on-premise & cloud-based (AWS, Azure and Google Cloud) integrated Advanced Analytics and Big Data infrastructure solutions. |
| Pinaacle Technologies | Offers Hospital Management System with various modules like OPD Management, MIS Reports, Clinical Management, Pharmacy Management and Health Insurance Management. |
| PTC | Develops Product Development Solutions, PLM - Product Lifecycle Management, Quality Management, Regulatory Compliance and Computer Aided Design. |
| Retail Whizz Technologies | Specializes in providing RDBMS-based software solutions along with DBA Services and Corporate Training across different verticles. |
| Rezlive | A Global supplier of accommodation, sightseeing and transfer services under one interface, to professionals within the tourism sector. |
| Rxprism | Delivers solutions for Healthcare Relationship Marketing, Digital Marketing, Healthcare IT, Mobility,Patient Adherence Programs and 3D Medical Animations. |
| Sanghvi InfoTech | Proffers Computer Networking, System Integrator, Security Solutions, Web Developement, Data Connectivity, Internet Services, Automation, RFID Solution, Tracking System and Banking Solutions |
| Shivam Medisoft Services | A provider of hospital management systems and EMR Solutions in the Healthcare sector that enables hospitals to automate their clinical, financial and operational management processes. |
| Sify Technologies | Leverages enterprise class technologies to provide companies with a platform for cloud and managed services that includes Enterprise Public Cloud, Private Cloud, Cloud based disaster recovery and... |
| Softlink International | Proffers Hospital Information System, Lab Information System, Cardiology Information System, Cardiology Imaging Network, Radiology Information System and Workflow Automation Solutions for Hospitals |
| Sollet Soft Solutions | Offers solutions and services for Banking, Non-Banking, Financial Inclusion, Digital Inclusion, Livelihood Inclusion, Franchise based E-Tailing and Social Inclusion |
| Spice Digital | A provider of VAS, Voice, IVR, SMS, USSD, WAP, 3G & Mobile Applications, Mobile Advertising, Financial Services and Enterprise Mobility |
| Systech Technocraft Services | A provider of file transfer platform for companies that require robust automation, to comply with regulations and policies, or other advanced MFT capabilities. |
| Techvigor Software Solutions | Provides an array of services like Hospital Information Management (HIS), CRM for Hospital, VOYC- Voice of Your Customer (feedback), IT Helpdesk Management Software for Hospitals and other industries |
| vCentric Technologies | Specialises in SAP S/4HANA, ERP, CRM, SCM, I.T. Implementation, I.T. Upgrade, I.T. Support, I.T. Rollouts, I.T. LANDSCAPING, SAP Services |
| VSoft Technologies | Delivers comprehensive solutions for Core Banking, NACH Payments, Cheque Truncation, Omnichannel Banking, Archival & Research and Image Based Item Processing. |
| Wisdom Jobs | A skill assessment based job portal that provides a platform for candidate Competency Assessment , Voice-based Candidate Engagement Tools,Custom-Sourcing for Start-ups and Recruitment Consulting |
| Zeux Innovation | Utilises a process driven UX Design approach to provide User Experience Design & Innovation, Assessment Lifecycle Management, Training and Research. |