Company of the Year - 2017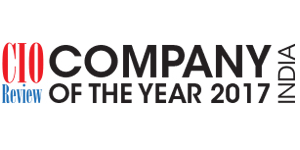 Technology today is advancing at a rapid pace and is ushering in a new era of transformation­al change that will impact our lives in the years to come. With both technology and data being critical to the operations of nearly all corporate functions, customer channels, products, and services, organizations are increasingly seeking out Cloud, Mobile and Big Data, which together have changed the character of traditional IT services. The growing availability and accessibility of these technologies have not only impacted large enter­prises and SMEs but have also paved the way for smaller nimbler start-ups to compete with the big players. Moreo­ver, the launch of the Digital India movement by the Indian Government has provided the much needed boost to the Indian Start-up ecosystem to leverage the available re­sources and align with upcoming innovations to stay agile.
At the close of a glorious 2017, CIOReview brings to you detailed profiles of companies who have leveraged their expertise in niche verticals to bring innovative products, solutions and services that not only address existing is­sues but also emerging challenges in the current technol­ogy scenario. These organizations have been identified for their exceptional contributions across a broad spectrum of technology verticals including Business Intelligence, Cloud, Big Data, Enterprise Mobility, Cyber Security, IoT, AI & Machine Learning, and ERP. Going a step further, we have also revealed some of the lesser known verticals such as Fintech, Hospital Information Systems, Marketing Tech­nology, Marine Solutions, Document Management System and Social CRM, all of which are slowly gaining prominence and which we believe will go on to become an integral ele­ment in the IT bandwagon. Having taken giant leaps ahead of traditional approaches, these companies stand to be the torch bearers for the next generation of technological trends. We laud them for their valuable contributions to an ever-evolving technology landscape and for their ability to differentiate and sustain themselves and emerge as in­novators in their respective domains.
A distinguished panel of the industry's topmost CEOs, CIOs, VCs, IT innovators and analysts, spanning across a host of verticals, and CIOReview's editorial board have closely scrutinized the offerings of these companies throughout the entire year and finalized on these compa­nies. We pass on our compliments and best wishes to the companies who have featured in this exclusive issue as we recognize their tremendous achievements and contribu­tion to the lesser known fields as well as innovation in the well known ones. In conclusion, we would like to wish them a very successful year ahead, where we hope all their en­deavors will succeed.
We present to you CIOTechOutlook Company of the Year - 2017.
| | |
| --- | --- |
| Agilean Solutions | Agilean Solutions aims to significantly bring down the operational costs for companies. The firm has directed its focus towards the automation of routine and mundane tasks |
| Bloomedha Info Solutions | Bloomedha Info Solutions works closely with enterprises in Clinical Research in providing a solution with a unified platform for all the stakeholders while ensuring data integrity and business... |
| BluePi Consulting | BluePi Consulting develops solutions engineered with the latest architecture patterns and cloud services |
| BOXX.AI | Boxx.ai is the world's only plug-and-play omnichannel personalization engine, leveraging the power of AI to enable the e-commerce players touch their end customers with a magical shopping... |
| Brightleaf Solutions | One of the few companies in the contract management landscape that is driven by their exclusive focus on the extraction of vital information from contracts customized as per the clients'... |
| Busy Infotech | Brings integrated and customized business accounting software to cater to the specific needs of a wide range of enterprise segments |
| Celltick | Enables governments and operators to deliver public safety alerts to citizens during times of crisis, through its mobile alert system - Mass Alert |
| Cognore | Brings forth a rather radical approach, remarkably simplifying the complexity around cyber security |
| Collateral Medical | Collateral Medical aims to close in this very disparity between hospitals and equip healthcare practitioners to deliver superior healthcare services |
| Coupa Software | Offers their fully comprehensive, open, and user-centric Coupa platform that assists enterprises to efficiently manage all of their spend in one place |
| Curio Technologies | An innovative platform is an end-to-end intuitive and user-friendly travel and expense management solution which automates the entire travel and expense lifecycle along with the provisioning of... |
| Decisive Analytical Systems | Established in 2010, Decisive Analytical Systems spearheads the aforementioned challenges with their novel product Plumb5 |
| Digiets India | Digiets proffers a broad range of in-house services like digitization which enables publishers to seamlessly convert their titles into the desired file output, the content development services that... |
| Enhancier CX Solutions | Provides unparalleled product Adura CRM offering a holistic view of the customer's entire lifecycle |
| Exceptionaire Technologies | Exceptionaire Technologies with a compelling offering in digital innovation and transformation closely working with its customers in the capacity of a CIO |
| Girish Global Holdings | Girish Global Holdings leverages its novel e-commerce strategies and processes to help identify and nurture customers and entice them to buy products or services online |
| ITG Telematics | ITG Telematics is a supplier of fleet management and professional vehicle tracking technology, stays distinctive and takes a new turn in offering GPS based fleet management products and services |
| Innovatia | Offer the full service spectrum from analysis to design, development, and delivery. Full curriculum content and interface development for mobile learning, and a full-featured hosted Learner... |
| iSON Technologies | Offers an integrated ITSM Process, cross industries best practices expertise, service focused approach and blended model of support for managing skill availability with low cost |
| Kongsberg Digital | Kongsberg Digital brings in competencies in leading technologies of IoT, smart data, artificial intelligence, machine learning and autonomous operations |
| Magma Engineering Asia-Pacific | Offering cutting-edge MAGMASOFT software that helps produce quality castings by minimizing the shop floor trails, reducing the cost of production, streamlining the process conditions and... |
| MariApps | Focused on providing end-to-end digital ship owning and ship management solutions to the maritime industry |
| NDOT Technologies | NDOT has developed its flagship product, Taximobility, a versatile and cost-effective taxi dispatching solution |
| Nivriti Solutions Global | A cloud solution provider that comes into the picture with a portfolio of its NSaaS platforms |
| Orduino Labs | Facilitates businesses with their novel product Lokate, the first Indian manufactured GPS based vehicle tracking, monitoring, and security system |
| NSDL | NSDL has been a pioneer in setting up the whole framework of migrating from the physical, paper-based model to a completely dematerialized model |
| Reactore Systems | Provides scalable, customizable and integrated technology driven solutions which are designed to meet client-specific needs |
| Shivam Medisoft Services | offering innovative solutions to automate their key processes including clinical, financial and operational management |
| Simplify360 | Caters to integrated social enterprise solutions for large organizations across diverse industry verticals such as Telecom, Retail, Media, FMCG, and internet-based companies |
| Sparkle Soft Systems | Firm has architected the cloud-based SaaS ERP platform following an extensive research and analysis |
| Stockholding DMS | A one-stop solution provider in the Financial Services domain in the country |
| SUSE | Provider of Enterprise solutions for Linux and Open Source, attempts to take the organization a step closer to the realization of the aforementioned advantages on software-defined storage approach... |
| Tata Communications | Secures organizations across emerging markets and developed economies against all known kinds of cybersecurity threats |
| Techvigor Software Solutions | TECHVIGOR aims to penetrate and capture the Indian & South East Asian Countries healthcare market with their novel offerings |
| UiPath | An intuitive visual process modeling tool which facilitates drag-and-drop functionality |
| Verve Logic | Offers a comprehensive suite of brand management services that help develop the finest branding and design strategies |
| Vyapar Tech Solutions | offers Vyapar, a novel end-to-end solution, with complete GST compatibility, assisting businesses to create GST invoices, and helps in GST return filing process |
| WinkTales | WinkTales works with innovation, technology, and product teams of leading start-ups and global enterprises to bring their vision to life |
| Yethi Medical Systems | Yethi Medical Systems leverages the latest available technologies to bring competitive Medical Technology solutions to the fore |