Company Of the Year - 2018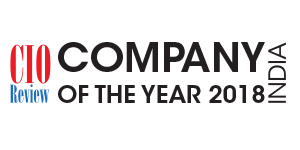 Industry is on the cusp of a getting digitally transformed as the wave of trending technologies sweeps over us. It depends on every business whether they will continue to work with their legacy systems and processes and crash with the digital wave or adopt advanced systems and solutions and rise above this wave. Digital transformation can mean many things, different to each organization. It could mean migrating workloads to the cloud, going beyond just the surface of data analytics, implementing mobility solutions, giving more access and freedom to employees or just automating certain processes that could lead to meeting their set business goals. Embracing the fourth industry revolution, five technologies have emerged as the most significant for the transformation via the cloud, artificial intelligence, Internet of Things, Virtual/ Augmented/ Mixed reality, quantum computing and next generation computing. Businesses are in need of a good digital transformation strategy in order to align their goals in parallel with the various technologies. Apart from this, businesses are on the lookout for solution providers that possess the new technological solutions, right business acumen and a skilled team of professionals that can execute the project through the entire project lifecycle.
As we come to an end of the year 2018, we have SMBs and large enterprises alike still struggling to gain a strong foothold in their domain. Assisting these companies, CIOReview brings to you an exhaustive list of companies with detailed information of the industry challenges and how best they eliminate it with their proven track record, deep industry-rich knowledge, portfolio of solutions and services across a broad spectrum of industry verticals. Once the client is on-board, these solution providers have the ability to study and outline the business needs, deploy the required solutions, empower the employees, optimize the operations, engage customers and achieve a higher ROI. These vendors have been acknowledged for their exceptional contributions across a wide range of technology verticals inclusive of BI, Cybersecurity, CRM, Cloud, Big Data, Enterprise Mobility, Fintech, IoT, DMS, AI, ML, HIS, ERP and the likes. These companies stand as innovators in their respective domains, contributing towards this digital change and bridging the technological gap.
A renowned panel encompassing the industry's topmost CEOs, CIOs, VCs, IT innovators, analysts and CIOReview's editorial board have finalized on this list of companies who in our opinion meet and exceed every client expectation. This perfectly handpicked exclusive catalog features the leading-edge vendors with a high performance and success rate. We congratulate the companies who have featured in this prime issue as we laud their achievements.
We present to you CIOTechOutlook Company Of the Year - 2018.
| | |
| --- | --- |
| AAVEG MANAGEMENT SERVICES | AAVEG - An ISO Certified Organization that manages transport operations as a MANAGED SERVICE. Be it leasing, Business rentals, Employee transportation or Pool cars, Aaveg is a first-of-its-kind... |
| ACRONIS | Acronis sets the standard for cyber protection and hybrid cloud storage through its innovative backup, anti-ransomware, disaster recovery, storage, and enterprise file sync and share solutions. |
| BIZTRAS IT SOLUTIONS | We are a niche organization providing IT and IT enabled Business Transformation & Consulting services in Analytics, Enterprise Applications and Engineering Services for our local, regional and... |
| KOVAIR SOFTWARE | Kovair Software, Inc. a Silicon Valley based software Product Company specializing in the domain of adapters/connectors for ALM/SDLC tools and Integrated Application Lifecycle Management (ALM)... |
| MAGMA | Magma Fincorp Limited(MFL)is a Kolkata based non-banking financial company registered with the Reserve Bank of India as an Asset Finance Company. |
| Nutanxt Technologies | NutaNXT is a NXTGen AI company focused on a singular mission–to partner with Enterprises building products and solutions for the AI world and help solve the most complex cross-domain challenges... |
| Pi Datacenters | Pi is focused on delivering futuristic data center and cloud solutions, of global standards. Pi takes the humble credit for introducing mega data centers in India. |
| PTC | PTC is a global provider of technology platforms and solutions that transform how companies create, operate,and service the "things"in the Internet of Things(IoT). |
| QA MENTOR | Prior to expanding operations at QA Mentor, Ruslan worked at Citi for 3 years as the Global Head of Testing of Worldlink Technology. Prior working at Citi, Ruslan worked at Sterling InfoSystems.... |
| Sattrix Information Security | An ethics driven, quality-oriented organization pivoted around providing its customers and partners the best of Cyber Security solutions. |
| SEVAMOB | Sevamob's mission is to fundamentally transform the delivery of healthcare in the world. Sevamob AI is a new initiative from Sevamob, whose goal is to reduce the cost of point-of-care screening and... |
| Somayaji Technolabs | It offers its tailor made expertise in Business driven solutions to clients in the areas of Payments, Enterprise Applications and Services focussing primarily on Banking, Education, Insurance,... |
| SUSE | SUSE Linux Enterprise Server is a Linux-based operating system developed by SUSE. It is designed for servers, mainframes, and workstations but can be installed on desktop computers for testing as... |