Company Of The Year - 2020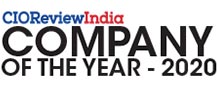 The year 2020, in terms of technology adoption, has been a historic landmark year, to say the least. The economic headwinds caused by the Covid-19 Pandemic outbreak and the geopolitical uncertainties ushered by an increasingly bipolar world order has forced business enterprises to re-strategize operational efficiencies.
These factors, combined together, have resulted in several technological transformations in the year 2020, with interesting new innovations springing up throughout the year. Adoption of AI and Machine Learning are at an all-time high with more unique breakthroughs in areas of medicine, research, including many services and manufacturing sectors like banking, consumer electronics, automobiles, to name a few. An overwhelming wave of industrial automation is also disrupting industrial processes.
This year also witnessed the introduction of the 5G networks - the latest global wireless standard after 4G. Unlike its predecessors, 5G is revolutionary because it enables a new kind of network that is designed to connect virtually everyone and everything together, including machines, objects, and devices as well. While Blockchain and Cloud technologies continue to show a robust growth trajectory, which in turn, is generating widespread excitement among government institutions, various sectors, including Banking, enterprises, organizations, and mainstream industries. 2020 can also be viewed as a year when emerging tech such as Blockchain and Cloud entered mainstream adoption.
Another trend that dominated the year 2020 saw the concerted efforts by Organizations towards creating assets and IP in areas related to Augmented and Virtual reality, visual commerce, edge analytics, and computer vision. This is set to create enormous opportunities for progressive technology startups and companies to tap into the demand and bring in a paradigm shift in the way of doing business.
In this special edition of CIOReview India Magazine, we present a list of the "Companies of the Year - 2020" to the readers. The enlisted companies have disrupted the marketplace thorough their innovative offerings in solving the present-day business problems and guiding organizations in this new age of digital transformation. We hope these providers have a great 2021, and wish them a very prosperous New Year 2021 in advance.
We present to you CIOTechOutlook Company Of The Year - 2020.
| Company Name | Company Description |
| --- | --- |
| Veritas | Veritas, with its edsp platform, plays a pivotal role by not just answering these questions, but by offering a comprehensive solution that can answer the data protection needs of a business no... |
| | |
| --- | --- |
| Born Group | We are one of the agencies that are trying to crack the code of not just surviving but thriving in a largely digital economy. |
| Cavisson Systems | Cavisson intends to address the performance challenges of today and at the same time keep innovating with the customers to design technologies that can address the challenges of application... |
| Cimmra | The Cimmra ePS is a versatile solution suite designed to work synchronized with any ERP, be it of global standard or custom-built |
| Cyborgintell | CyborgIntell offers a Zero Code AI system, enabling businesses in making quick data-driven decisions for optimum efficiency and enhanced revenue growth with slashed expenditure |
| Dparth | Dparth offers its professional services right from the project conceptualization stage through planning stage |
| Eqomos | eqomOS has thoughtfully designed the storefront features to let merchants completely customize it to complement their business needs |
| Evolis | Through more than 400 official distributors worldwide, Evolis handles projects of varying sizes: local or multinational, multi-site and multi-lingual |
| Innovationext | Innovation is not about starting an idea from scratch. It's about open learning & innovation culture |
| Kalpins | The expert panel at Kalpins focuses on understanding the pain points of the client and delivering customized digital marketing solutions that guarantee results |
| Kagaay | For Realtors, KAGAAY is providing faster liquidation of inventory, while on the other hand, for buyers, it gives the right price asset advantage |
| Lesoko Drone Technology Services | There is a complete range of services that Lesoko offers its clients while providing the perfect and optimized drone tech solutions for any kind of industrial application according to the requirements |
| Magmasoft | MAGMASOFT has been catering to the players in the foundry industry, across the globe to seamlessly optimize casting processes |
| Mirasys | Mirasys is headed with a strong focus on playing a key role in the Make in India initiative via Smart City and Safe City contributions |
| Msrcosmos | Fundamental to MSRCosmos' business philosophy and culture is their commitment to deliver on their promise |
| Ncssoft | NCSSoft has made sure of delivering clients with efficiency, productivity in their audit operations by significantly saving their precious time & efforts |
| Orisenc Technologies | Orisenc has proposed ways to help accelerate remediation initiatives such as Business Continuity Planning (BCP) and Scaling up of IT usage |
| Pixelvide | Pixelvide has built and implemented one of India's finest financial management and information system (FMIS) solutions |
| Proseraa Analytics | As a one-stop solution provider, Proseraa teams up with several other partners within the Salesforce ecosystem and handpicks the best package specific to each client |
| PTC | PTC unleashes industrial innovation with market-proven solutions that enable companies to differentiate their products and services, improve operational excellence, and increase workforce productivity |
| Qualtech Consultants | Qualtech is helping Insurance & Lending organizations at different stages undertake digital transformation by working closely with them |
| Salem Infotech | We have been certified as a Salesforce app exchange partner and consulting partner, for more than 8 years, and also a certified AWS partner exploring the Open source opportunities |
| Sanvaru | We pride ourselves on being Indian owned and operated with state-of-the-art products designed and assembled on home soil of India. |
| SoftPrime Technologies | SoftPrime Technologies is an IT Services and System Integration Company and an Oracle Gold Partner which develops personalized cloud solutions and NextGen systems for an enterprise's digital... |
| Software@Work | Software@Work's current offerings, Tally.ERP 9 and ERPNext, are able to offer cost effective solutions to small and medium sized companies |
| mPHATEK | mPHATEK is strongly placed in the entire ecosystem of digital transformation, it offers a bouquet of innovative IT products and solutions |
| B+M Surface Systems Group | The company is strongly focused on special surface quality, coating thickness and the development of specific dosing and application processes |
| Ezapp Solution | Ezapp Solution has a laser-sharp focus on solving the Industry needs by automating Product development related to machine learning |
| Tata Classedge | Tata ClassEdge offers its products and services to more than 1,700 schools, reaching out to over 125,000 teachers and 1,700,000 students across 200 cities in India |