Company of The Year - 2021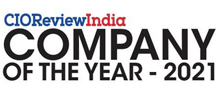 There is a huge change in the requirements & expectations of the businesses as well as clients as organizations and businesses around the globe are emerging out of the covid-19 pandemic pause. As per a recent report by Gartner, 80 percent of technology products & services will be developed by those who are not technology professionals. New business objectives will arise across the organizations post the crisis and this will require IT to adapt to new technology roles as well as develop new skills in order to stay updated.
Since traditional products and services are being outcompeted by new digital alternatives, there are new market opportunities being created and established businesses have started adapting strategies and operating models in order to maintain their competitiveness. However, new technology trends make way for a surge in client expectations, and things that seemed impossible a decade ago are now possible owing to the advanced technologies.
As the year 2021 draws to a close, CIOReviewIndia in this special issue features the Companies of the Year, who have leveraged their extensive industry experience and technology maturity to bring innovative products, solutions, and services that not only address existing issues but also the emerging challenges. These organizations have been identified for their exceptional contributions across a broad spectrum of segments including Digital Transformation, Cyber Security, IoT, Artificial Intelligence, Banking tech, Healthcare technology solutions, Fintech, and many more. We laud them for their valuable contributions to an ever-evolving technology landscape and for their ability to differentiate and sustain themselves and emerge as innovators in their respective domains.
A distinguished panel of the industry's topmost CEOs, CIOs, VCs, IT innovators, and analysts spanning across a host of verticals and CIOReviewIndia's editorial board have closely scrutinized numerous companies throughout the entire year and zeroed in on these companies. We offer our compliments and best wishes to the companies who have featured in this exclusive issue as we recognize their tremendous achievements and contribution to their respective fields. Hoping to see them continue treading the path of innovation, we would like to wish them a prosperous new year.
We present to you CIOTechOutlook Company of The Year - 2021.
Company of The Year - 2021
| | |
| --- | --- |
| Automation Cloud Solutions Private Limited | Other than just its solution and scaling its business Automation Cloud Solutions Private Limited believe in donating money for various charitable causes |
| Creative Factor Integrated Marketing | Our world is always in a flux. Agility and Adaptability is key to any workplace. Our Business Consulting and Communication services enables businesses to make the best of the opportunities in short... |
| Envisionard | We provide our end users with a hyper-personalised marketplace and a user-centric experience platform topped with conversational AI. |
| Finonyx | With the Experience, Expertise, and Excellence that the company showcased over the years, Finonyx has become a Leader among Core Banking Solution Providers. |
| Grapes Innovative Solutions | Doctor's App, Patient App, Bed Side Assistant (BSA)App that helps hospitals go paperless, Comprehensive Token System, Smart rooms and more. |
| JMR Infotech | The company is the first Oracle platinum partner that provides top-notch digital banking solutions |
| Magma Engineering India | Customer service is given the top priority at MAGMA. To ensure optimum customer satisfaction, the brand stays updated on the technical advances of the industry |
| Mettler Toledo | We continue to work closely with our customers to help them comply with their quality management programs. |
| Newtels Onthego.AI | Its enterprise-grade product suite has helped clients save upto 60% on their Automation spend |
| Sentiacare | Sentiacare India has developed comprehensive solutions for covering the gamut of women's health specifically focusing on Adolescent Girls, Pregnant women, Delivery, Post Natal Care,... |
| Shri Achyuta Services | When it comes to its machinery services, the company's primary aim is to use innovation to prevent theft and vandalism while making it affordable to all businesses. |
| Skie TV | The contents integrated on Skie TV platform will directly play-out from the application with a single login for the end-user. This gives the viewer a seamless and uniform experience of consuming... |
| We360.AI | We360 thrives on its motto to offer the highest amount of user value at the lowest cost |
| Teknowmics | The company has seen huge success in the past few years and is currently working on enhancing their offering as per client needs and market demands. |
| Varseno Solutions | Varseno's cloud offerings help organizations maximize their returns from cloud investments |